(404) 567-1108
Our Customers always come first….
At Millenium Irrigation, LLC, our emphasis, whether you're a new irrigation installation customer, a repeat irrigation repair customer, or lighting customer is quality services from start to finish. With honest, five-star customer reviews, we strive for 100% customer satisfaction every day.
We are a duly formed limited liability company carrying $2,000,000 in liability insurance for your protection. Millenium is also a Hunter Silver preferred contractor, Kichler Light Pro as well as a member of the Irrigation Association. In 2010, Millenium was honored to be chosen as the Irrigation Association's Smart Irrigation Month contest winner in the Small Business Category.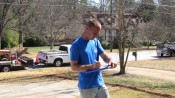 Our Co-Founder, Gregg Poe, fought a valiant battle with cancer succumbing to the disease in July, 2011. We remain committed to providing the same level of customer service that he always provided customers over the last twelve years.
Our Chief Executive Officer, Chris Faulkner, has been with us since 2009, starting off as Gregg's project assistant during the Kia Motors Manufacturing of Georgia irrigation installation. He now handles day to day operations and has become known for his irrigation system troubleshooting skills.
Our Co-Founder, Carla Poe, was the only contractor from Georgia and the first Woman to participate in the Rainbird Contractor Advisory Council in 2011. Carla also remains involved with Millenium consulting with our staff on various irrigation projects and marketing. She also remains committed to raising awareness for lung cancer working with the Lung Cancer Alliance, a non-profit based in Washington, DC, that works toward ending the injustice and inequality for lung cancer funding, research and screening as well as saving lives through an alliance of advocacy, education and support.
Our entire staff participated in the No More Excuses 5k for lung cancer in 2011, as well as the company donated proceeds from sales during Smart Irrigation Month to Lung Cancer Alliance. We are a yearly sponsor of the local Shine A Light on Lung Cancer event as well as the upcoming Lung Love Walk in 2015.
We believe that giving back to our community is important and have donated services to many projects such as Must Ministries new irrigation installation in Marietta.
Anytime you have questions or need assistance, we are always available to you! Just simply give us a call at 404-567-1108 or fill out the Contact Form below.